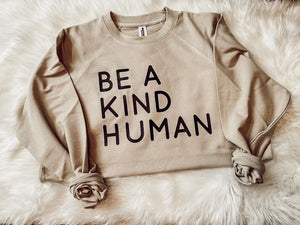 Be A Kind Human Sweatshirt/Tee
This listing is for ADULT tees. If you are interested in this design on a kid shirt I will be glad to make you one - just shoot me a message on Facebook or Instagram!
This particular sweatshirt is a new brand I am trying out - super lightweight, I would size up from what you would usually wear in a Gildan sweatshirt. It's a little more form fitting because of the band at the bottom. Super comfy!
I don't offer fitted or v-neck options due to the make-to-order nature of my business and low stock at the companies I purchase from.
I LOVE custom orders and if you are purchasing for a reunion, trip (Disney especially!), or something like that where you need a large number of shirts please feel free to message me because I give large order discounts. 
I truly appreciate your business! 
PLEASE ALLOW 7-10 BUSINESS DAYS FOR ALL ORDERS.
---
We Also Recommend
---